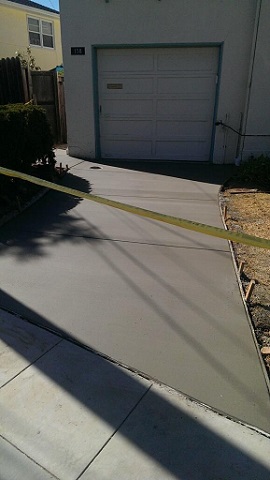 Pouring concrete seems like a simple task, after all, you can buy the supplies at DIY and hardware stores. The truth is, there are a lot of variables that go into pouring concrete. You have to make sure the ground is prepared correctly, the mix of the concrete has to be right, the temperature has to be right, and so on. Don't waste your hard-earned money doing it yourself, only to have problems later.
Concrete Applications in Danville, CA
We can do all kinds of concrete projects in and around your home, including:
Basement Floors
Basketball Court
Driveways
Foundations
Garage Floors
Patios
Pool Decks
Sidewalks
Steps
Tennis Court
No matter what type of concrete surface you need, we can make sure it is poured correctly, for a long-lasting and durable surface. It doesn't matter how big or small your project is, we have the materials and knowledge to professionally install your concrete needs. We'll make sure the job is done quickly and efficiently while limiting the interruption to your property and home life. We want you to be happy with the entire process and will work with you to make sure all of your questions are answered and the project is completed to your satisfaction.
Concrete Experts in the Bay Area
Let our concrete experts handle everything, you just let us know what you would like done and we'll take care of the rest. From sidewalks to patios, to driveways and more, Bay Drainage can handle all of your concrete needs. Give us a call today and let us pour your concrete. We offer free quotes and have 25 years experience in working with concrete as well as drainage, retaining walls and more. We are proud to serve Danville, CA and the surrounding communities.